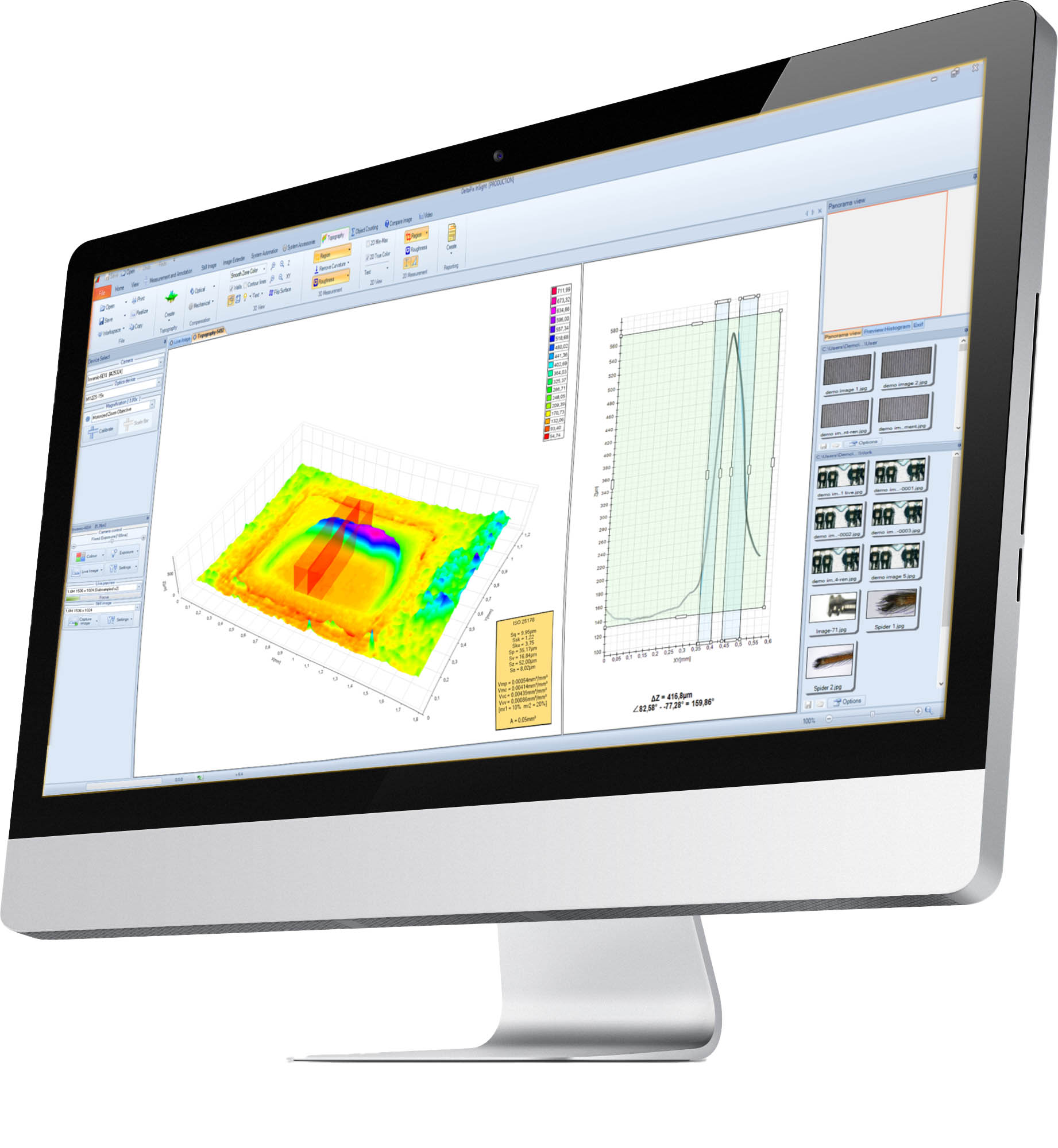 DeltaPix InSight V6.4.7 64bits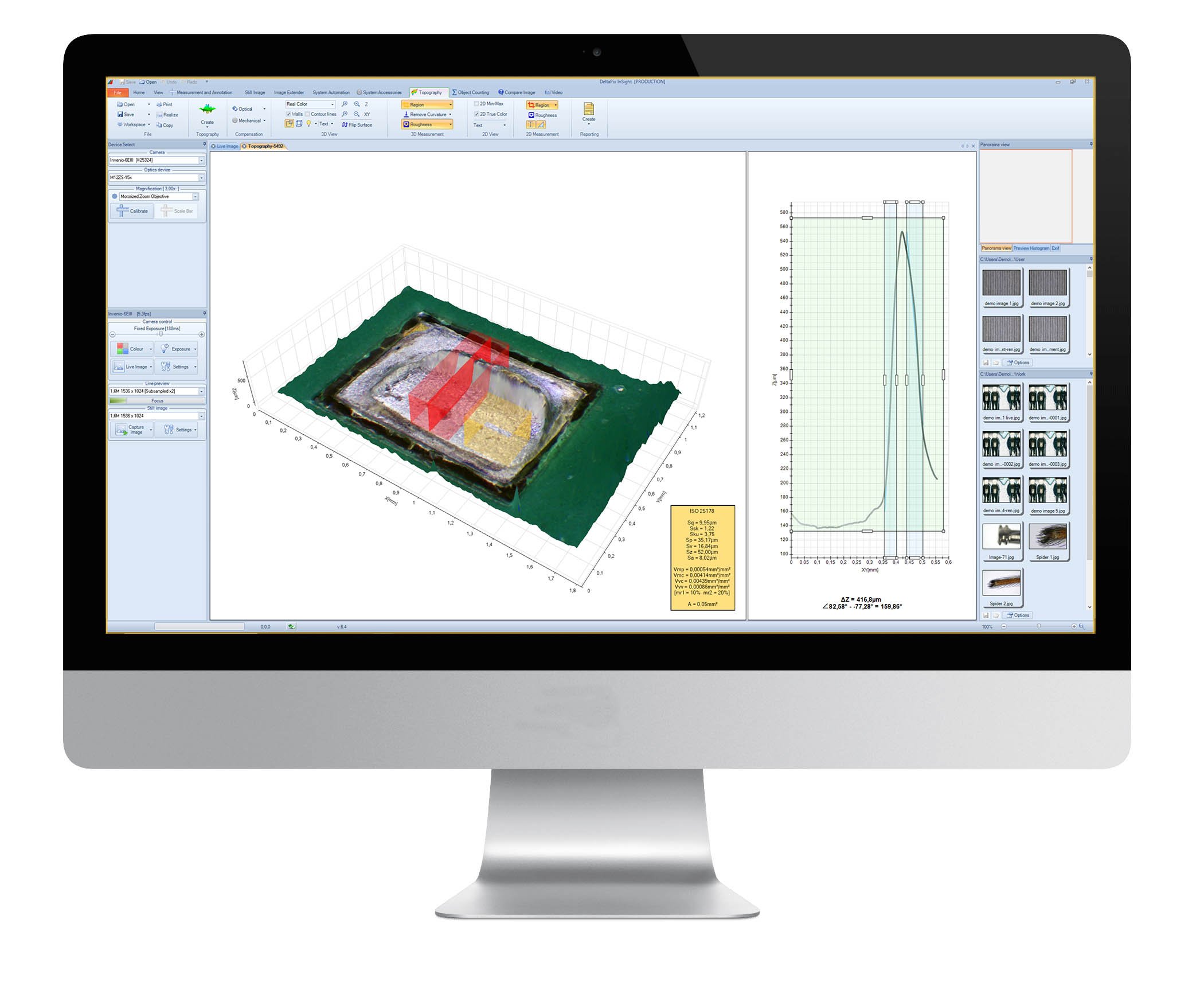 NEW in 6.4.7:
Complete redesign of user-interface for 3D/2D Topography

More user-friendly and intuitive.
Individual regions for 3D and 2D features. Regions are now mouse draggable.
2D measurements; angle and height.
New ISO roughness measurements.
Introducing topography workspaces.
More file formats for saving 3D
Automatic calculation of Z-slice distance
Topography reports in Excel/PDF formats

Import stack images from Zeiss microscope to create a 3D Topography
Improved zoom algorithm used for still images, improving still image quality.
Improved user experience during image stacking.
New directory shortcuts for "EasySave". Possible to save directly into the thumbnail galleries.
All languages updated.
Report templates copied local to myDocuments.
The installer now has the option for selection of installation directory.
Point-to-line measurement now has a moveable label.

Manual updated

MTB Init option (Reboot MB server when in Admin mode).

Joystick option for 10% and 25%speed on XY (Zeiss and DeltaStep4 only).

New Control panel option to NOT save settings on program close.
Bug fixing in 6.4.0:
Small fix in GUI for autosave, save and render.
Fixed minor video recorder issue, playback only possible >1fps
The contrast for the InvenioIII camera is back.
Data correctly exported to report.

The default framerate is now back to full.

Counting – workspace load corrected.

Fixed camera switching USB3 <-> GigE.

Fixed ½ framerate issue for InvenioII cameras.

Fixed problem in 6.4.1 – not starting in some rare cases (topographic quality dropdown)
Support for new cameras
Integrated H4KWSD08DPX.

COOL09DPX, COOL20DPX, COOL07DPXC integrated.

Allied Vision GOLDEYE integrated.
 Support for new PixLight. Updated in InSight and firmware (PixLight v2.1.1 – 6ZS_WB)
Special attention is needed for some camera types when used with InSight 64-bit versions:
Invenio 5SIII, Invenio 10SIII, Invenio 2EIII and Invenio 6EIII, 10EIII, 12EIII and 20EIII:
Supported by InSight Basic 6.x.x and newer versions without the need for attaching a dongle, "Basic" version. Supported by InSight 6.x.x Basic plus any combination of advanced modules – but requires a dongle (Physical or virtual) with 64Bit enabled. In case a dongle without 64 bit enabled is attached, it will cause the camera to malfunction and a text like: "dongle expired" might show up. For more info contact DeltaPix.
Infinity X, Infinity X32, Invenio 3S, Invenio 5S, Invenio 1DII, Invenio 3DII, Invenio 5DII, Invenio 8DII, Invenio 3SII, Invenio 5SII:
Supported by InSight 6.x.x in all versions, but a dongle with 64Bit enabled is always required. In case your software displays "dongle expired" or similar text after installing InSight 6.x.x, it might be due to a dongle with missing 64-bit capacity. To solve this, please contact DeltaPix or your local dealer.
DP200, Invenio 1D, Invenio 3D, Invenio 5D These cameras are not supported in Insight 64 bit versions.