DeltaPix inSight Software
Fill out this form to receive instructions for downloading the latest DeltaPix InSight 64Bit and the older 32bit version.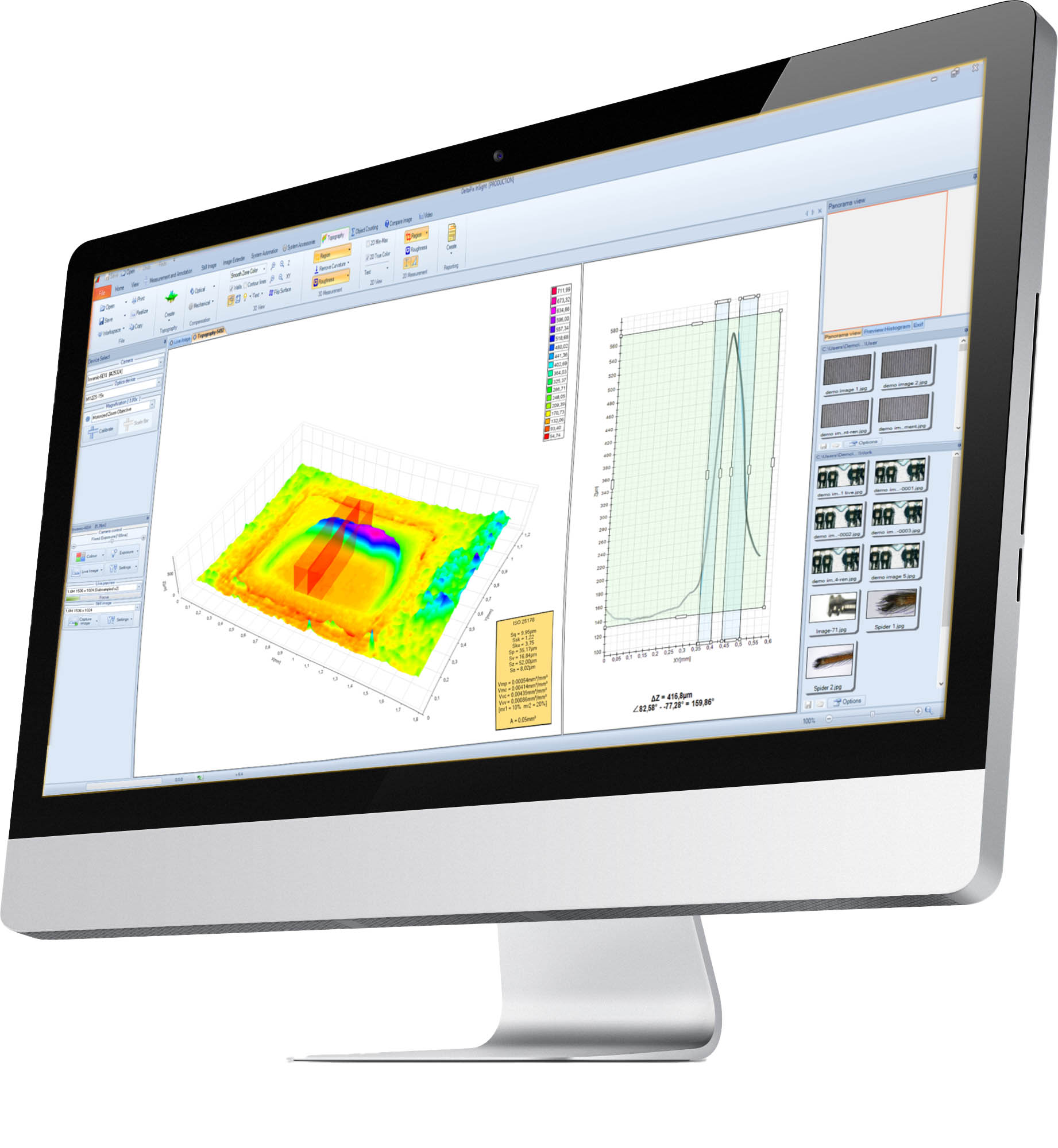 DeltaPix InSight V6.6.7 64bits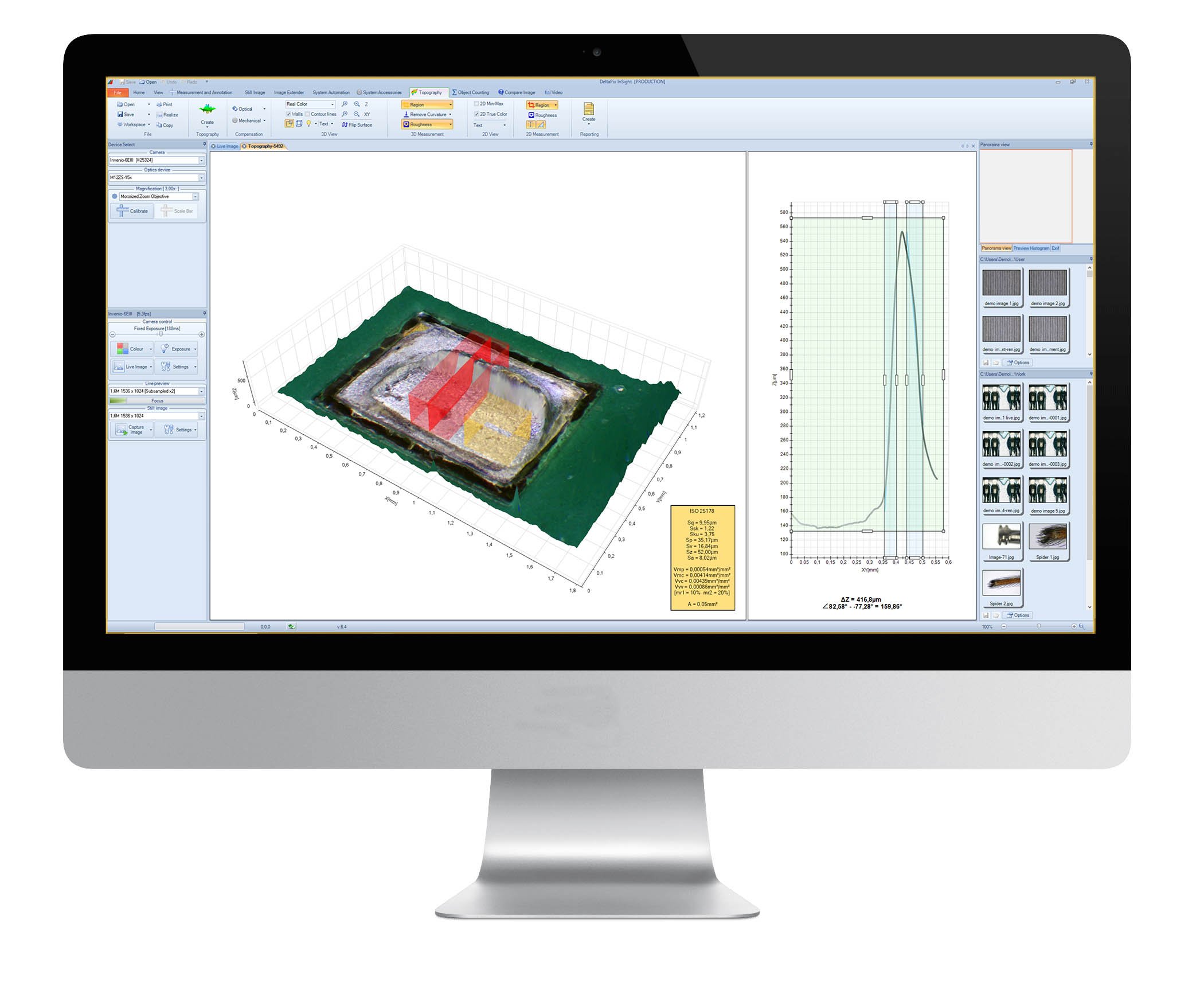 NEW in 6.6.7:
 Zone autofocus using ROI.
 Two-zone autofocus for automatic determination of levels for extended focus and topography:
 Can be interrupted (switching to Idle state)
 Search range now using same center position for finding both bottom and top level.
 Ctrl + Alt shows region by fake coloring on the live image.
 Introduction of "grey" mode objectives, objectives not defined in any way because a microscope configuration also includes a specific camera. Using another camera makes the configuration "grey".
Bug fixing in 6.6.7:
Measurements fixed – font size and color made persistent.
Lots of major/minor bug fixing/improvement in topography.
Fixed delete of label on 2D by using the global DEL button.
Fixed order of images to topography – when done from files – now always ordered ascending.
A little more work on the objective scanner – now showing toast notification.
 Shading correction work – did not work with H4KWFSD08DPX – now double buffering,
 Fixed speed of focus motor relative to DOF
Optics Editor cleanup ,and made it more intuitive.
Support for new cameras
Integrated H4KWSD08DPX.

Integrated H4KAWSD08DPX.

COOL09DPX, COOL20DPX, COOL07DPX integrated.

Allied Vision GOLDEYE integrated.

Allied Vision Goldeye G-030 integrated.
Support for new PixLight. Updated in InSight and firmware (PixLight v2.1.1 – 6ZS_WB)
Special attention is needed for some camera types when used with InSight 64-bit versions:
Invenio 5SIII, Invenio 10SIII, Invenio 2EIII and Invenio 6EIII, 10EIII, 12EIII and 20EIII:
Supported by InSight Basic 6.x.x and newer versions without the need for attaching a dongle, "Basic" version. Supported by InSight 6.x.x Basic plus any combination of advanced modules – but requires a dongle (Physical or virtual) with 64Bit enabled. In case a dongle without 64 bit enabled is attached, it will cause the camera to malfunction and a text like: "dongle expired" might show up. For more info contact DeltaPix.
Infinity X, Infinity X32, Invenio 3S, Invenio 5S, Invenio 1DII, Invenio 3DII, Invenio 5DII, Invenio 8DII, Invenio 3SII, Invenio 5SII:
Supported by InSight 6.x.x in all versions, but a dongle with 64Bit enabled is always required. In case your software displays "dongle expired" or similar text after installing InSight 6.x.x, it might be due to a dongle with missing 64-bit capacity. To solve this, please contact DeltaPix or your local dealer.
DP200, Invenio 1D, Invenio 3D, Invenio 5D These cameras are not supported in Insight 64 bit versions.