COOL09DPX – Cooled Microscope camera with 9 Megapixel Colour sensor
Cooled microscope camera with fast streaming video and high sensitivity.
DeltaPix cooled microscope cameras offer fast and precise high-resolution live video streams as well as still images! User-friendly setup for everyday use, with a first in class price/performance ratio. The Cooled DPX camera series is especially suited for low light applications, due to its high sensitivity, and applications in which a high frame rate and is required. The Cooled DPX camera series is based on a high-quality Sony ExmorTM sensor for excellent image quality, sensitivity, speed, and build-in advanced two-stage peltier cooling technology cooling up to 42°C below ambient temperature. This will greatly increase the signal to noise ratio and decrease the image noise.
9 MegaPixel high quality still images
High-speed video
Large 
Cooled 1″ sensor
Exposure time up to 60minusts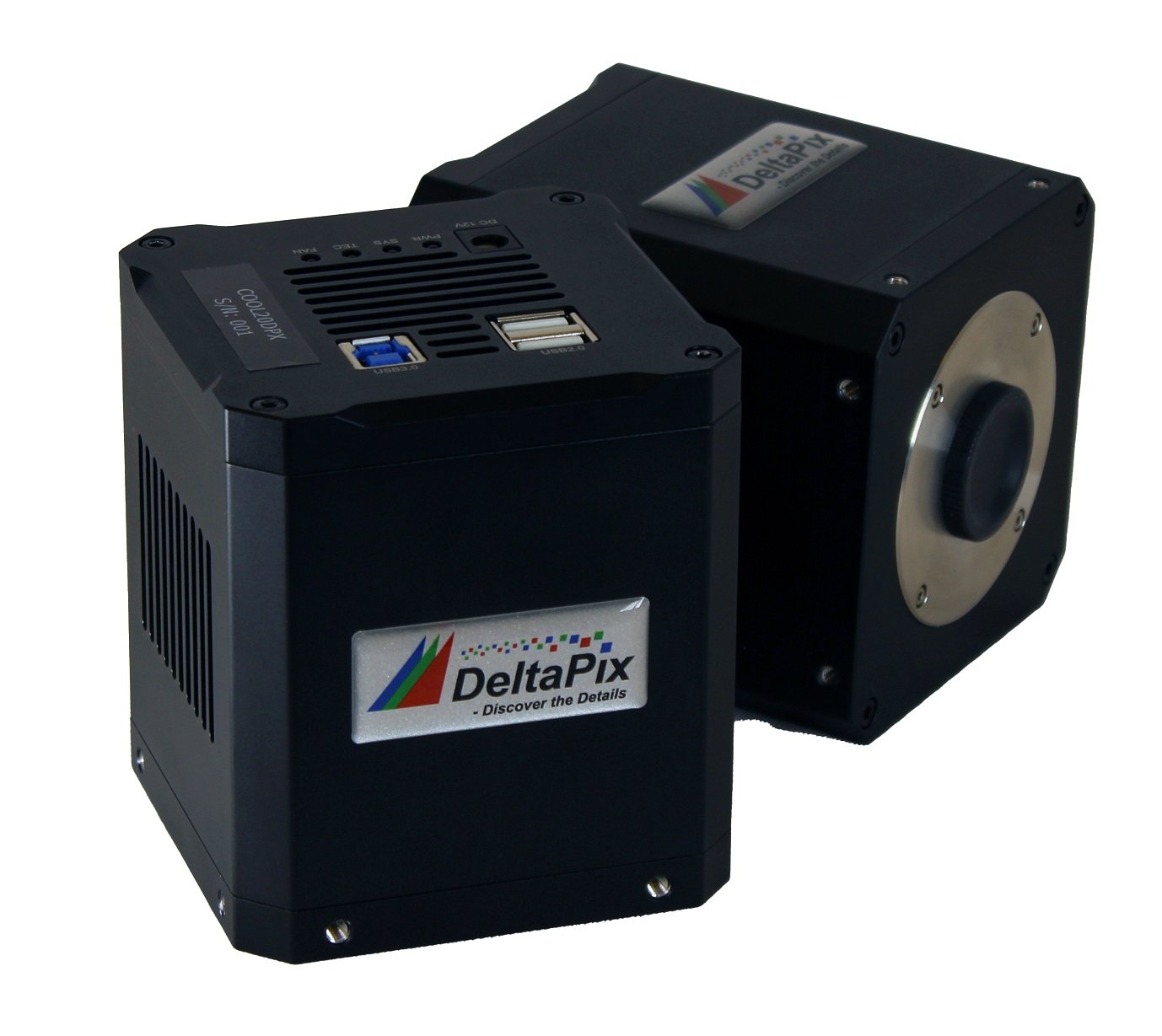 Support and Service
DeltaPix cameras are supported by an experienced team of experts with more than 25 years of experience in the field of camera and imaging. Our goal is to provide our customers with the best service and guide them to choose the right camera for their application. Normally support requests are answered within a few hours, and if needed, DeltaPix can do remote on line support and setup
Advanced Cooling Technology Reduces Dark Current Down to 0.001e-/pixel/s
The COOL20DPX is based on professional cooling technology from sCMOS cameras, which can significantly reduce the hot pixels noise during long exposure time.
C-mount makes the camera compatible with most microscopes and objectives on the market.
Image Sensor

1" Sony Exmor sensor

11.28mm x 11.28mm

Effective pixels
9Mpixels (3000 x 3000)
Frame rate

3000 x 3000 @40FPS(C)
1500 x [email protected]
1000 x [email protected]

Pixel size
3.76 x 3.76 microns
Colour filter
Colour
Quantum efficiency
84%@495nm
Exposure time
0.1 milliseconds – 3600 Seconds
Gain
1-100
Sensitivity
534mv with 1/30s
Cooling
42 ℃ (below ambient temperature)
Shutter
Rolling shutter
Interface Connector
USB 3.0 high-speed interface
Lens Mount
C-mount
Mass
934g
Power Requirement
12V
Dimensions H X W X D
96.5mm x 86mm x 86mm
Software
DeltaPix InSight Basic included