4K Microscope Camera for measurements and analysis(discontinued)
Fast Streaming Video, High-Resolution Still Image and built-in advanced measurement function 
DeltaPix Invenio 4KHDMI, 4K microscope camera is packed with many innovative features to simplify your work. The Invenio 4KHDMI has a built-in measurement software providing highly effective measurement tools directly on the screen with no need for a computer. 4K microscope cameras clearly reveal the sample's finest details on-screen, even when zoomed in. With the Invenio 4KHDMI users can enjoy fast, comfortable and user-friendly on-screen operation – improving sample evaluation, measurement, facilitating effective collaborations and documentation in high resolution. The Invenio 4KHDMI is the perfect solution for professionals in need of an accurate measurement tool in fields of industry, research, medicine, and science. USB 2.0 and HDMI interface Large Sony CMOS colour sensor Resolution of 3840 x 2160 pixels Live image speed of 60 fps with 1920 x 1080 pixels Live image speed of 30 fps with 3840 x 2160 pixels Built-in 4K video recording Built-in advanced measurement Selectable language: English, German, French
USB 2.0 and HDMI interface
Large Sony CMOS colour sensor
Resolution of 3840 x 2160 pixels
Live image speed of 60 fps with 1920 x 1080 pixels
Live image speed of 30 fps with 3840 x 2160 pixels
Built-in 4K video recording
Built-in advanced measurement
Selectable language: English, German, French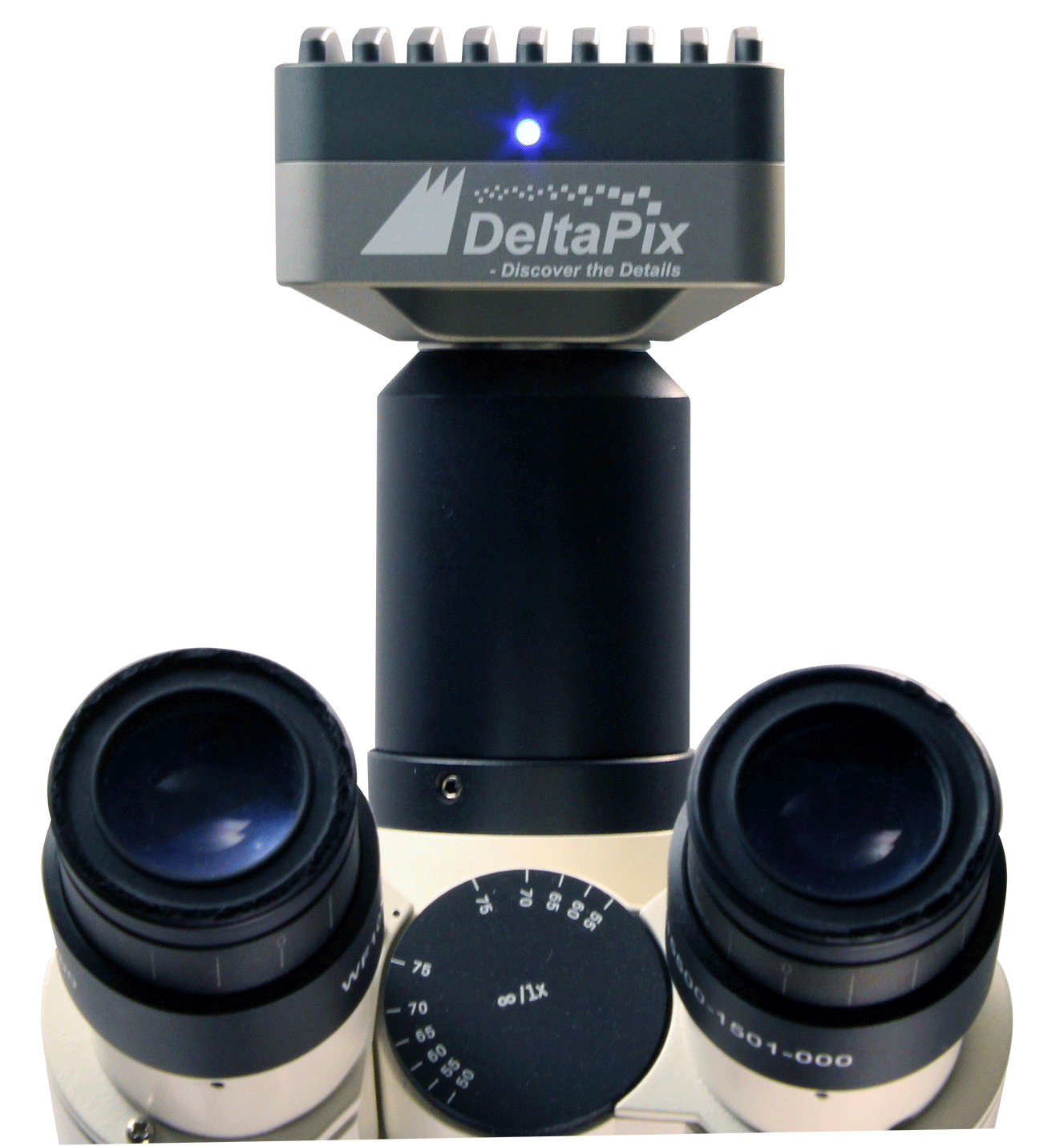 Why 4K?
4K also known as UHD is a new variant for TV and PC monitors which offer at least 4 times more pixels than normal HD or FHD standards. The result of this increased number of pixels is an image clarity that goes well beyond conventional 1080 pixel HD resolution and presents more vibrant, varied and realistic colors. Therefore, DeltaPix is Introducing a new 4K microscope camera to present new opportunities for working with digital microscopes without compromising any details in the sample. What does this mean for microscopy work?  A higher resolution captures a higher level of detail for analyzing the finest structures of the object under the microscope. Thanks to the advanced technologies of the Invenio 4KHDMI camera, even the finest details of a sample is clearly revealed on-screen.
MEASUREMENT TOOL
THE INVENIO 4KHDMI MICROSCOPE CAMERA PROVIDES POWERFUL MEASUREMENT FUNCTIONALITY WITH HIGH ACCURACY.
Plug and play – the HDMI interface for ease of installation on any monitor with HDMI input no need for a PC.
Exmor back-illuminated structure
Sony Exmor back-illuminated structure sensor, is developed with the intention of capturing vivid images even in low light settings. "Exmor " sensor is approximately twice as sensitive as a conventional front-illuminated CMOS sensor and also features low noise. This is due to back-illuminated CMOS sensor, light is directed onto the silicon substrate from behind, allowing light to be used with a level of efficiency not possible with conventional front-illuminated pixel structures.
C-mount makes the camera compatible with most microscopes and objectives on the market.
IR filter
The Invenio 4KHDMI – Microscope camera is made with high quality IR filter which protects the sensor from invisible light and dust. DeltaPix IR-filters are free from scratches and other artefacts, which could potentially degrade the image quality.
Image Sensor

1/1.7" format CMOS Coluor

Effective pixels

3840 x 2160 pixels

Image resolution

3840×2160

Frame rate

60 fps with 1920 x 1080 pixels
30 fps with 3840 x 2160

Pixel size

1.85 x 1.85 microns

Colour Temperature

1800K-10000k

White Balance

Automatic / Manual

Auto Exposure

Automatic / Manual

Parameter Settings

Gain, Gamma, Saturation, Contrast

Record video

4K Video

Interface Connector

USB 2.0
HDMI

Lens Mount

C-mount